EasyEFT Casinos – An In-Depth Guide to Playing at Online Casinos
Online casinos that support EasyEFT transactions let players deposit money instantly and withdraw money quickly without providing their bank or credit card details. EasyEFT was created specifically for South African online shoppers. The company is headquartered in Mauritius and has processed thousands of casino transactions since it was established in 2014.
EasyEFT as a Payment Method for Online Gambling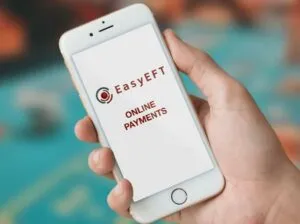 EasyEFT casinos are online casinos that accept EasyEFT deposits and process withdrawals via the same payment method. Since the EasyEFT instant online payment system was developed by South Africans for South Africans, it's no surprise that there are plenty of EasyEFT casinos available.
Choosing the right casino is the most important thing to get right before you start gambling. There are many things to consider, such as the casino's gambling licence, reputation, wagering requirements, bonus offers, and trustworthy rating.
To make the process less time consuming, choose any of the EasyEFT casinos listed below. At these casinos, you can begin playing immediately without signing up for a separate e-wallet. You don't need a credit card or bank card to start playing at these sites and you don't have to supply the EasyEFT casinos with your financial information.
How to Deposit with EasyEFT at Casinos Online
Depositing money into your online casino account is instant with EasyEFT. This means you can begin playing right away after you have registered with the casino.
EasyEFT is not a web wallet or prepaid card. There's no need to open an e-wallet account or top up anything before you can use this payment method. It's freely available to all South Africans with a bank account.
When you deposit with EasyEFT, money is taken directly from your bank account and transferred over to your casino balance. EasyEFT facilitates the transfer process, making it faster, safer, and more private.
To deposit at any of the licensed and regulated online EasyEFT casinos recommended on this page, click on the casino's link and follow the prompts to complete the registration process. Once you have an account and are logged in, complete your first deposit using these steps:
1

Navigate to the Cashier. You can do this by clicking on the Deposit, Cashier, or Banking icon, depending on the casino.

2

Enter the amount you want to deposit.

3

Click on the EasyEFT icon to select it as your payment method.

4

Select your South African bank account from the list provided.

5

Enter your bank account details in the separate window that opens up.

6

Confirm the deposit by entering the one-time PIN that you receive.

7

Once you confirm the deposit by entering the one-time PIN, your casino balance will be topped up immediately.Remember to claim any bonuses before you confirm the deposit. If you have claimed a bonus, it will be added to your balance as soon as your deposit reflects.With EasyEFT deposits, your financial information is secure at all times. You don't have to provide the casino with your bank account details. The account details are entered into an encrypted EasyEFT window that is not connected to the casino, so the casino never has access to this information.
The Full Benefits of EasyEFT Deposits at Online Casinos
EasyEFT is a safe payment method that is trusted by thousands of South African online consumers. It is used to complete instant payments by bypassing the tedious and lengthy processes associated with regular EFTs (electronic funds transfers).
You don't have to provide proof of the deposit to the online merchant or online casino since EasyEFT does all the administration on your behalf. That's why these deposits are instant, as opposed to other EFT payments that may take a few days to reflect.
To recap, the benefits of using EasyEFT to deposit at online EasyEFT casinos are:
Instant deposits
You can claim bonuses, deposit, and begin playing immediately.
Faster withdrawals
Since EasyEFT is not a bank, the processing of withdrawal transactions is not restricted to business days.
No registration
You don't have to sign up for a separate account to use EasyEFT. The service is available to all bank account holders.
No bonus exclusions
Unlike e-wallets, EasyEFT deposits are not excluded from bonus offers.
Private
You don't have to supply the casino with your banking information.
Safety
Transfers are encrypted and protected by EasyEFT and your bank.
No credit card is required
You can transfer money from your regular bank account.
Security
Deposits won't be deducted from your bank unless you enter the secret one-time PIN (OTP) correctly. The OTP will be sent to the cellphone number you have registered with your bank.
Low fees
EasyEFT does not charge consumers for using the payment service to deposit at online EasyEFT casinos.
Although the EasyEFT payment provider does not impose fees on consumers who use this payment method, they do charge merchants (online EasyEFT casinos) a fee for offering this payment method on their websites.
Most online casinos do not attempt to pass on the EasyEFT fees to their users. In other words, EasyEFT casinos typically won't add any fees for deposits. They prefer to remain competitive by not charging deposit fees.
If the casino does not deduct a fee for the EasyEFT deposit, the total value of your deposit will be added to your casino account balance.
Most South African banks allow their customers to use the EasyEFT payment service. This includes:
ABSA
First National Bank
Nedbank
Standard Bank
Investec
Capitec
How to Withdraw at EasyEFT Casinos Online
Withdrawing money from the casino is easy. Players don't need to create virtual wallets or sign up for separate accounts. All you have to do is enter your bank account details and the money will be transferred to your bank account.
Here's a step-by-step:
1

Log into your casino account.

2

Navigate to the Cashier or Withdrawal page.

4

Enter the amount you want to withdraw.

5

Select your South African bank account from the list.

6

Enter your bank account details.
At online casinos that offer EasyEFT deposits but not withdrawals, you will be asked to choose another method of payment when you request a withdrawal. You can usually still request that the funds be paid back to your bank account. You can also register an e-wallet if you prefer.
While there aren't many negative aspects of using this payment method at online casinos, it's safe to say that withdrawals will usually be slower than withdrawals via e-wallet or cryptocurrency gateways.
At the same time, withdrawals via EasyEFT are typically faster than regular EFT withdrawals. The money will reflect in your bank account sooner than if you had selected regular EFT or classic EFT as your withdrawal method. However, the bank may charge you a fee for using a third-party payment provider.
Here's a recap of things to consider:
Withdrawals may take up to 72 hours to reflect in your bank account, which is slower than e-wallet and crypto withdrawals.
Your bank or the online casino may charge you a fee for using EasyEFT to withdraw your funds.
Online casinos may not support EasyEFT withdrawals even if they do support deposits.
Safety Measures Taken at EasyEFT Casinos
EasyEFT is a safe payment method used by thousands of South Africans every day. It is supported by leading banks and some of the best online casinos. However, it's best to take precautions whenever you are using real money to play at online casinos.
We recommend depositing money with casinos that are licensed or trusted by the online casino community. Properly licensed online casinos must adhere to strict safety protocols and security measures to maintain their licences.
Licensed casinos are frequently audited by the gambling authorities that issue their licences.
When we say, "Properly licensed," we are referring to casinos that hold valid licences from respected gambling authorities. Many authorities can be trusted to monitor the activities of online casinos. Some of these authorities are:
The Malta Gaming Authority (MGA)
The United Kingdom Gambling Commission (UKGC)
The Alderney Gambling Control Commission (AGCC)
The Kahnawake Gaming Commission
The Gibraltar Regulatory Authority (GRA)
It's important to cross-reference casino licences with the official authorities. There are fraudulent online casino sites that claim to be licensed but aren't really. Steer clear of these sites to avoid losing your deposit.
To protect your hard-earned cash and winnings, stick to the licensed sites we recommend. We have done the groundwork and can confirm that these casinos hold valid licences. In addition, the sites we recommend have responsive customer support services that can assist you with any questions that arise.
Here are some measures you can take to play safely at online casinos:
Keep your bank profile passwords private.
Choose secure banking passwords that nobody will guess.
Play at reliable online casinos.
Only enter your financial details on secure web pages that begin with "https://" – the "s" in 'https' means that the site is secured by Secure Sockets Layer technology (SSL).
Never send your bank details to online casinos via email or mobile uploads.
More Great Information About EasyEFT
EasyEFT is an online payments facilitator that has been operating in South Africa since 2014. The company is registered in Mauritius. It was founded by a group of FinTech enthusiasts who were keen to fill the gap in the SA market by providing safe, fast, instant online transfers.
When you pay with EasyEFT you are transferring money directly from your bank account to the online merchant or casino. When you withdraw via EasyEFT, you are transferring money from your casino balance directly to your bank account.
EasyEFT is not listed on the stock exchange so there aren't any statistics available regarding the volume of annual or daily payments processed online. However, it's safe to say that thousands of users use EasyEFT transfers regularly. You may have used EasyEFT for online transfers without even realising it.
To claim any of the exciting EasyEFT casino bonus offers on this page, simply click on the link, sign up for an account, and complete a minimum deposit if one is required. You can do this from any device including smartphones and tablets.
FAQ
Frequently Asked Questions about EasyEFT Casinos
Yes. Licensed online casinos that support EasyEFT transactions are equally as reliable as licensed online casinos that don't support this payment method. You should only deposit money at casinos that are licensed by reputable gambling authorities or casinos that have stellar reputations. The casinos we recommend are licensed and reliable.
Yes. EasyEFT is one of the payment methods that are nearly never excluded from receiving bonuses and promotional offers. Some online casinos prohibit certain payment methods from claiming the bonuses, as is the case with certain e-wallets.
If you are claiming a deposit bonus at an EasyEFT casino, be sure to deposit an amount that is at least equal to the minimum deposit required to receive the bonus. If you are claiming a no deposit bonus, there's no need to deposit before the bonus is added to your account.
No. Some online casinos don't support this payment method at all. The casinos listed on this page do allow EasyEFT payments. You can usually find the available payment methods somewhere on the casino's website before you sign up for an account – typically on the homepage.
No. Although most online casinos that support EasyEFT payments do offer this payment method for deposits and withdrawals, some of them don't. You may find some casinos that support only EasyEFT deposits but not withdrawals, and vice versa.
Deposits are instant. The money is taken from your bank account and transferred to your casino balance immediately.
No. Withdrawals may take up to 72 hours to reflect in your bank account after the casino has released the money.
This depends on the casino. Different casinos allow different minimum deposit amounts. Some may start as low as R20 while others may stipulate minimum deposits of R150 or more.
There is no maximum withdrawal amount at the casinos we recommend as long as you are not playing with bonus money. Any maximum withdrawal amounts stipulated pertain to the transaction limit. This means that your full amount will be paid but it may be paid in separate transactions.
On the other hand, if you are playing with bonus money then casinos may cap the maximum withdrawal allowed from bonus winnings. This is different at each casino.
They might. Some casinos charge fees and some don't. You will also find that some casinos charge fees for withdrawals but not for deposits. This isn't unique to EasyEFT transactions. Online casinos can charge fees for any payment method used.
Yes. You can click on the link to any of the casinos recommended on this page to launch the casino in your mobile browser. You can sign up, deposit, and begin playing immediately at these EasyEFT casinos on any device.